Request the Song and Debut Rocket Science Video for the song STOP at the following places: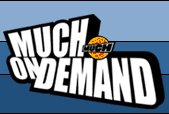 Join the Rocket Science "Atom Smasher" street team!
Join the Official RS Mailing List
Order FOOLSCAP
Rocket Science @ Lee's Palace - Sounds of Sonic Unyon Tour 2001 - November 2nd 2001
Review by: Chartattacks' Tim Melton
"...Next up to the plate was Toronto's Rocket Science, who drew the largest crowd and was the only band to actually get those hovering around the bar to descend onto the floor in front of the stage. The band churned through their set like a school of piranhas who'd come upon a fresh piece of meat.
Opening with the funk pummel of "Atom Smasher," the four-piece set the bar high and kept it up throughout their performance. Vocalist-bassist Rob Higgins wailed and ranted, at times even looking like he might sprout wolfman hair and start howling at the moon.
With a set that included the harsh vocal snapping "Ganglion" and a rare Toronto performance of the melancholic, slide guitar-driven "Poisonous Gasses At Supermarkets," Rocket Science proved to be one tough act to follow..."
"...As good as all of the bands on The Sounds Of Sonic Unyon tour were, there was just no beating Rocket Science's furious performance that night."
Back
home / news / audio / pics / events / request / band bio / media / tabs / lyrics / links