Request the Song and Debut Rocket Science Video for the song STOP at the following places: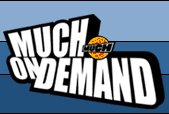 Join the Rocket Science "Atom Smasher" street team!
Join the Official RS Mailing List
Order FOOLSCAP
Rocket Science @ Lee's Palace - March 2nd 2000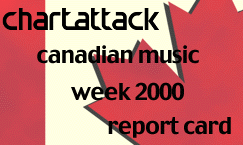 Rocket Science @ Lee's Palace
Thursday March 2nd, 2000
By: Tim Melton
Band: Rocket Science
Hometown: Toronto, ON
Venue: Lee's Palace
Date: March 2nd, 2000
Composition: Rocket Science kick out a sound that is more Prog than Punk, and more Pop than Punk. The band are incredibly well-gifted musicians and sound like a pop version of Primus-minus the bizzaro humour.



Achievement of Rock 'n' Roll Expectations
80-100: Band exceeds skill and knowledge expectations. Rocked us so hard we peed our pants.
70-79: Band achieves required skills and knowledge. Meets rock 'n' roll standard.
60-69: Demonstrates some skills. Approaches rock 'n' roll standard.
50-59: Band demonstrates some required skills and knowledge in a limited way.
Below 50: Band has not demonstrated required skills or knowledge.


Grade: 95
World Domination Status:
Progressing well towards world domination
Progressing with some difficulty towards world domination
No chance in hell for world domination



Progressing well towards world domination
Comment:
Rocket Science have got what it takes to blend smart, complicated arrangements with cool, melodic vocals. To be progressive and not be annoying can be a tough thing to do, but Rocket Science seem to have it down to an artform. RS also have above average musicianship in their corner.


Learning Skills:
E=Excellent, G=Good, S=Satisfactory, N=Sad Really


Oral And Visual Communication
Eye Contact: E
Pronunciation: E
Stage Presence: E
Stage Banter: E
Image: S
Appearance: S
Use Of Stage: E


Strengths/ Weaknesses/ Next Step:
The band does not rely on an image to get their point across and it shows that they spent a lot more time practicing than they did on shopping for trousers. Rocket Science have the skill needed to be launched into the big leagues and their powerful stage show is a force to be rekoned with.


Musical Analysis
Cooperation With Others: E
Level Of Participation: E
Problem Solving: G
Teamwork: E
Work Habits: E
Organization: E
Audience Participation: E
Sound: E
Composition: E
Songs: E


Strengths/ Weaknesses/ Next Step:
Rocket Science bounce off each other well musically and some amazing bass-drum-guitar interplay makes for an intense show. The bassist and drummer share lead vocal duties and both have good vocal abilities. The band has monolith-sized riffs that came close to leveling Lee's Palace.


Other Skills And Areas Of Interest
Charisma: G
Sexiness: G
Haircut: S
Indie Rock Footwear: E
Nods To Disposible Fashion: E
Cool Equipment: E
Level Of Inebriation: E
Actual Ability: E


Strengths/ Weaknesses/ Next Step:
The band's skill and songs overrule their fashion sense and prove that R 'n' R isn't a fashion show. The audience found the band's blend of many different styles pleasing to the ears and gave them the kudos they deserved.

Back
home / news / audio / pics / events / request / band bio / media / tabs / lyrics / links