Request the Song and Debut Rocket Science Video for the song STOP at the following places: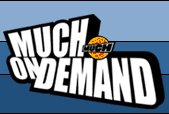 Join the Rocket Science "Atom Smasher" street team!
Join the Official RS Mailing List
Order FOOLSCAP
Rocket Science @ Barrie, Molson Park - Edgefest - July 1st 2001
Rocket Science - Edgefest - July 1st - Canada day
Review by: Jason Rakowsky
Me and my two friends got into Molson Barrie park for Edgefest at around 1:20. I was really excited to see Rocket Science play, since I saw them last open the WRC. My friends were looking for people and seeing people they knew. We were exploring the park, seeing what was where this year, when I decided we must find the Emerging stage before 2:40 because Rocket Science were playing. We finally, at around 2:20 saw these chipmunks who pointed us in a direction that looked like it was going into a fence. While avoiding the chipmunks hug, I told my friends to hurry in that direction. Eventually as we got closer to what we thought was no where, we heard someone say Breach of Trust from some stage. Breach of Trust were playing the emerging stage, so we followed the voice sure enough to find the emerging stage.
Breach of Trust were setting up for their set and the stage was running a tad late. Finally Breach of Trust played, who I must say were really amazing. I, however, must confess that I was trying to look behind the stage for Rob during their set. After their set, me and my friends went over to greet the drummer and singer of Breach of Trust, and my friends got some stuff from the drummer in particular. While waiting for my friends, I knew I had to get the available position right in front of the stage for the next band, who was Rocket Science. People were asking me for my Sharpe pen to get the drummer to sign their stuff. Soon I realized I'd have to sacrifice my blue ballpoint pen to get that spot in front, leaving people wondering, "Didn't he have a sharpie?"
In any case, I found my way dead centre at the front where I saw my friend Jesse who also likes RS. He asked Rob if they would play Metal dog and the pig of Steel, only to get the reply, "Sorry, Won't be hearing that today". [Jesse ended up watching the show from the side with friends]. Also, during setting up, while testing his guitar effects and pedals, Rich put a puzzled look on some faces with some very nifty guitar sounds.
I finally just saw Rob setting up his gear on stage and called his name and introduced myself after conversing via email. It was really rockin'. Rob was dressed really layed back and really cool. His shades were there and everything. Some people say RS is more about the music then looks, but they really got it all going down.
So finally my friends came back and the show began as the host introduced the band and then Rob did so too.
Rocket Science tore into Losing an Edge which was full of screams and crazy moves. I was caught laughing so much during their set, because I found it humorous for some reason how energetic Dan and Rob really were. Dan really gets that hair flying all over the place and I can say, is prominent for his work on drums. Some might not think so, but for a lot of the show I was fixed on Dans drumming. However all the band members were going at it with a full fledge, straight ahead, "get the hell out of my way" attitude. Rob, between lyrics, would lean back into his "rock star" position, some might say. Rich would also co-sing with Rob at some parts which was a good blend.
After the powerful Losing an Edge, which started to bring quite a good crowd out to Rocket Science, Rich got into some cool guitar effects for the song Ganglion which had me caught and blanked at the screaming words "Talkin monkeys that treasure what they sold". A little improve was always there on all the rocket science songs. When you go to a Rocket Science show, don't expect what exactly what you hear on the CD's. It's out there.....way out there.
During the middle of Ganglion, me, Nathalie and Michelle noticed a poor defenceless caterpillar under Robs pedal chords and between Robs feet. As proof of Robs madness on stage, the caterpillar almost got crushed about seventeen times by the active Mr. Higgins, even through our screams to save it. [Which also shows the intensity of the show].
At the end of Ganglion we yelled for Rob to look under his feet for the caterpillar. After taking a good 30 seconds to look for it, he finally found it and nudged it onto the grass. "We have some activists in the front.....I would have eaten it, but it was on the floor", says a jesting Rob Higgins to the crowd. Through the whole set the band was having an incredibly fun time, and you could definitely see it.
When hearing the high pitch two note frequency coming from Rich's guitar, I knew it was time for Control. Unlike Ganglion and Losing, this song was much more relaxed, some might say. Having swoosh in from unexpect after the words "Control", was classic and got two [most likely drunk guys] dancing and yelling "ya's" all through their set. You could tell people were interested at this point as even screams from woman were coming from behind me........oh wait....those were the drunk guys again.
After Control came Everybody Wins, originally named Electric Boogie Mouth. You could definitely hear the jam session going down in this song. Having the blend of EP like resonance and new additions to the song, was pleasing to most ears. At the end of the song I even heard my metal head rocker friend Michelle give the band a nice "whoo".
The last song was Everything and Nothing, which I kind of knew was coming, and since it is one of my favourite songs, I yelled out to play it. "This next song is Everything Nothing, dedicated to Jason Rakowsky". That made my day, and I wish I would have gotten that sentence on tape. Icing on the cake is all I can say, because the bass line to this song is the shit, to say the least. From the corner of my right eye I could see three guys watching the show very impressed and into this bass line [these three guys actually came up to Rob after the show saying how good they were and showing their support]. Even through the whole show, being able to draw a pattern for a song and sing at the same time screams talent. Gord had some crazy guitar moves on this song, flying up and down the neck. I couldn't even follow it. He wasn't soloing. It was pure Drop D gold. You have to see it to believe it. The end of the song paved the way for the always fun, one chord finale, smash drums outro.
Rob and the guys, after the show, were really down to earth and really chic too. Rob met up with some friends and Rich [and Rob] were nice enough to conduct an interview with me and answer a few questions. These guys are really "down in it" and know what it's about. They can be everything you want in a rock band, cause they are.
Despite the set being short, it was powerful as anything I've seen lately. When Rocket Science go all out and play, they go way out and over the edge. There isn't a dull moment in the set. Whether it's Rob jiving all over the stage, Rich putting the funk in the guitar, Gord smashing out the heavy notes in Drop D or Dan just going completely insane on drums and giving it infinite percent, these are gonna be huge in a big way. They blend that metal hard-core stage attitude with a punk/emo/grundge/rock music style, that it's a New type of everything that they got going on. Whatever Label, or whomever picks up these guys, are gonna be extremely content.
Back
home / news / audio / pics / events / request / band bio / media / tabs / lyrics / links