Request the Song and Debut Rocket Science Video for the song STOP at the following places: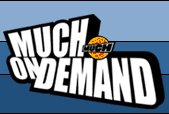 Join the Rocket Science "Atom Smasher" street team!
Join the Official RS Mailing List
Order FOOLSCAP
Eye - Grapevine - 08.03.00 - CD info
Rocket Launching
Rocket Science is currently mixing its highly anticipated full-length debut. Judging by their super demo EP and increasingly good live shows, it doesn't really need any celebrity guests, but advice from Geddy Lee can't be a bad idea. The Rush singer (Uncle Geddy to Rocket Science leader Rob Higgins) did guest vocals and helped with production in his home studio. The 11-track disc was also recorded at Signal to Noise with Rob Sanzo and features appearances by DJ Jack Ass and Sticky Rice. The working title is Metal Dog and the Pig of Steel, i.e., the Chinese astrological symbols for Higgins and drummer Damon Richardson. Despite heavy industry buzz, Rocket Science remain Free Agents, but are weighing some small-label offers to release the disc, hopefully later this month. Before that, Rob will shoot a new video with his other band, Tristan Psionic.
Back
home / news / audio / pics / events / request / band bio / media / tabs / lyrics / links