Request the Song and Debut Rocket Science Video for the song STOP at the following places: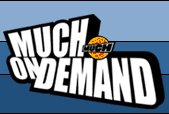 Join the Rocket Science "Atom Smasher" street team!
Join the Official RS Mailing List
Order FOOLSCAP
York University's Excalibur Online Rocket Science Article - Volume 36 , issue 14 - November 14th, 2001
Staff Writer: Michael Woods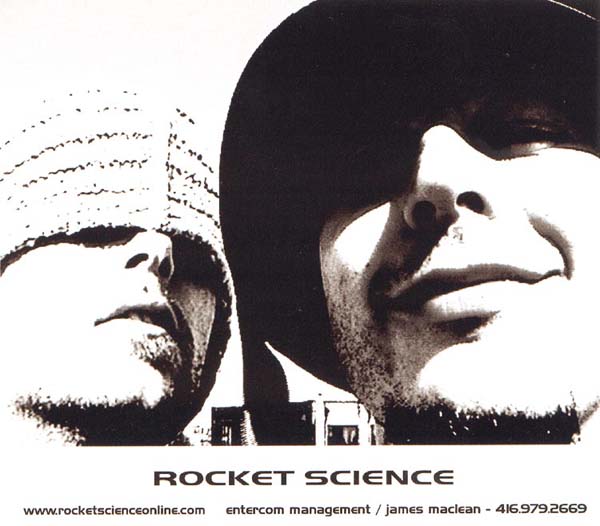 Rob Higgins is worn out. For the past two weeks he and his band, Rocket Science, have been traveling across Canada with the Sounds of Sonic Union Tour. They are about to start the last leg of the tour at Lee's Palace with fellow Sonic Union acts Mayor McCa, Chore, and Sector Seven.
"It's good to be home," Higgins says onstage to the Lee's crowd. Despite their exhaustion, Rocket Science manages to put on an energetic show, easily drawing the largest crowd of any act on the bill.
The band, whose members hail from Toronto, consider this show to be the release party for their debut album, Foolscap.
Prior to the formation of Rocket Science a few years ago, Higgins was a member of Toronto indie bands Change Of Heart and By Divine Right. Following the breakup of these groups, Higgins decided to pursue his own music, forming Rocket Science as a vehicle for his ideas. What began as a quirky rock act has evolved into a group effort, a "four-on-the-floor guitar rock attack" as Higgins puts it.
"On Foolscap I wrote the majority of the songs," explains Higgins. "Now, someone brings in an idea and the band collectively shapes it into a song. The next record will be [even] more collaborative."
Rocket Science features Higgins on bass and vocals, Rich Faima on guitar and vocals, Gordon Reilly on guitar, and Daniel Cornelius on drums. Recording Foolscap gave Rocket Science the opportunity to hone their sound and to mature as a band.
"We discovered that we don't like to do one thing," Higgins says. "What we've accomplished is making a record that covers the majority of the musical ground that we like to cover. We didn't want to make a record that sounded the same from song to song. We wanted it to sound human."
As a result, Foolscap is a heavy record that manages to remain melodic. It features songs that are quiet and sensitive alongside songs that are loud and abrasive. The album was produced by Higgins' famous uncle, Rush bassist Geddy Lee. The collaboration came about when Change Of Heart's breakup coincided. With Rush taking some time off.
"[Lee] and I have been close since I was a little kid," says Higgins. "We just started checking out some of the songs I had kicking around, one thing led to another, and he decided he wanted to produce the record."
Higgins says Lee helped the band realize the full potential of their songs. "He brings infinite wisdom and a really strong work ethic. He definitely pushed the band to explore the melody, to not avoid something because it wasn't 'cool', to get the best sounds we could with the resources we had."
As their tour finishes, Rocket Science are looking forward to taking time off to promote their new album and look for new touring opportunities. However, the group's next album is already on Higgins' mind.
"We've got a few songs kicking around and have been talking to some people about starting pre-production. We've even been approached by a couple of producers who would like to get involved with the next record. So we're thinking about it quicker than I thought we would be."
Back
home / news / audio / pics / events / request / band bio / media / tabs / lyrics / links