Request the Song and Debut Rocket Science Video for the song STOP at the following places: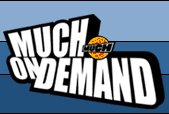 Join the Rocket Science "Atom Smasher" street team!
Join the Official RS Mailing List
Order FOOLSCAP
Chartattack - October 9th 2001 - FOOLSCAP CD review
---
ROCKET SCIENCE Foolscap ( Sonic Unyon)
This Toronto four-piece led by bassist-vocalist Rob Higgins peel out 10 tracks of super-charged rock that borders on metal, but never falls upon the cliches of the genre. This isn't your standard issue OLP-style Canadian rock band. Rocket Science take things far heavier, but still remain melodic and with guest appearances on a couple of tracks by the likes of Sticky Rice and Ben Mink, the members of Rocket Science have created a varied debut that shows a band taking command of the situation. Take huge guitars, smart lyrics and a hammer-down rhythm section, then sprinkle them very sparingly with samples and put the gas pedal down. That's the formula for Rocket Science.


Tim Melton
Back
home / news / audio / pics / events / request / band bio / media / tabs / lyrics / links