Request the Song and Debut Rocket Science Video for the song STOP at the following places: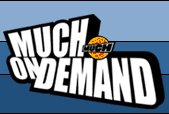 Join the Rocket Science "Atom Smasher" street team!
Join the Official RS Mailing List
Order FOOLSCAP
Our Lady Peace Tour with Royals' Rob Higgins on Bass
Friday July 11th, 2003 @ 03:00 PM
By: ChartAttack.com Staff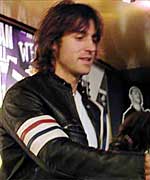 Raine Maida
Looking for something to do tonight? Live in Toronto? Why not check out The Royals at The Rivoli? After all, singer Rob Higgins is the type of guy you may want to get to know. In addition to fronting The Royals, Higgins is also set to play bass with Our Lady Peace during their summer tour, while regular OLP bassist Duncan Coutts takes some time off for personal reasons. This will be Higgins' second run with OLP — he also subbed in for them a couple of years ago, just following the release of Spiritual Machines.
If the name Rob Higgins sounds familiar to you, it may be because aside from The Royals, Higgins also fronts a second band called Rocket Science... not to mention the fact that his uncle is Rush frontman Geddy Lee. In fact, Lee produced both the Rocket Science five-song EP as well as their 2001 debut full-lengther, Foolscap. Lee also delivers his own trademark brand of backing vocals on the track "Space Suit."
As for Our Lady Peace, they just came out with a new live album and are planning to have their next studio album out in early 2004. The band – along with temporary bassist Higgins – will be kicking off their tour with 3 Doors Down this Sunday in Prince George, B.C.
For tonight, though, Higgins will be one of The Royals. The show at The Rivoli begins at 10:15 p.m. as special guests Inflight Safety kick things off. Sticky Rice are scheduled to play at 11:15, and The Royals hit the stage just after midnight.
—Megan O'Toole
Back
home / news / audio / pics / events / request / band bio / media / tabs / lyrics / links